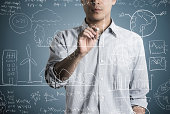 This article by Link and Lewrick (2014), presented at the Science-to-Business Marketing Conference, provides an interesting overview of the possibilities of Agile Methods in Innovation Management. The authors propose that Agile Methods should not be used in R&D only, but also in fields like organizational culture, management style, structures, effective working and cunstomer relationships.
Preliminary results indicate that using their methodology for Agile Business Models creates more than 100% growth in new business results year-to-year, 100 times cost reduction, innovative solutions, brand image growth and reduction of process life cycles.
Read full article: Agile Methods in a New Area of Innovation Management and Business Modeling.